Wedding planning can't get any better for the love smitten couples thanks to the exciting deals and promo codes on free bride and groom sunglasses from sunglassville. This coupon and promo code offer that has been around since March 2015 has made many a couple smile in excitement so far and the fabulous response for this offer has made us extend it even further!
Let even the smallest details in your wedding turn the way you wanted with these amazing wedding sunglasses complemented with unbeatable deals and discount coupons. Customize these sunglasses to match your personal tastes and style and avail great savings and discounts on your next purchase with these Bride & Groom sunglass coupon codes, and special deals from Sunglassville.
Available in unique color patterns and models including even glow in the dark styles, we have custom sunglasses for bride and groom in all possible genres that will make your day stand out. Being on a budget need not rob off the charm of your wedding event thanks to the amazing discount deals from sunglassville.
Shop for any custom sunglass of your choice from sunglassville.com and get a pair of bride and groom sunglasses worth 25$ absolutely free!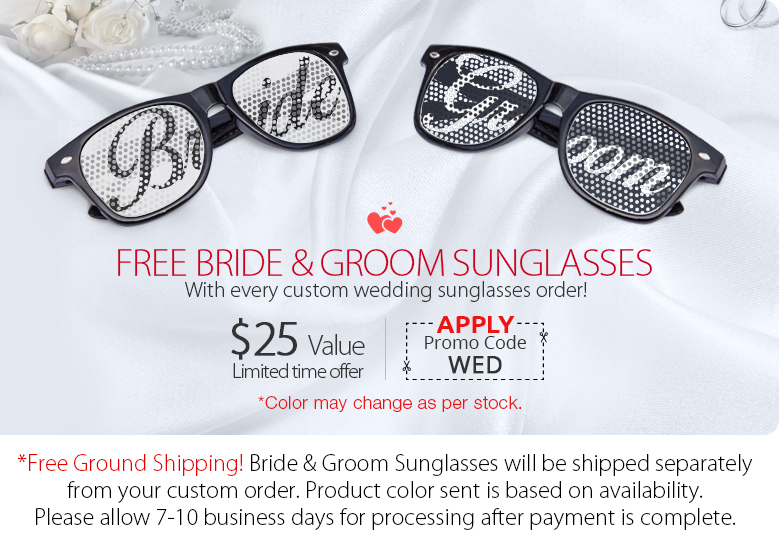 These custom printed wedding sunglasses will make great hand outs among the family and friends of the bride and the groom and will leave a style statement that is too good to miss out. Bride and groom sunglasses will help anyone to distinguish the groom's and bride's party with ease and will complement with the wedding finery of the guests.Wedding party sunglasses make perfect gifts for bachelor and bachelorette parties as well.
We have an impressive lineup of wedding party sunglasses with both lens and arm imprinted bride and groom logos to choose from to match your diverse tastes. These glasses with UV protection features and durable design are well suited for outdoor and summer weddings as well. No gifts can match the charm of these customized sunglasses that bear the name of the bride or the groom. Let these stylish wedding favors keep alive those special moments in the minds of your friends and family for many more years!
How to avail this offer
Use our promo code WED with your custom order and romp home with a free pair of bride and groom sunglasses, which will be shipped separately within 7- 10 business days. The coupon savvy customers need just to apply coupon code on the check out page to avail discount.
Good times never last long! So, hurry, do not let this fabulous discount offer slip through your fingers. We bet, these promo codes and coupons will jazz up your wedding celebrations like never before and keep your guests in good spirits!